Blogpost prepared by XLAB and TECNALIA.
The month of October was very hectic in regards to the exposure of PIACERE's results engaging highly impactful communities: Eclipse and Ansible. Anticipating the final release of the PIACERE technology, the feedback of these communities and the engagement with their most active members greatly contributes to the sustainability of the key exploitable results of the project.  
 EclipseCon is the leading conference for developers, architects, and open-source business leaders to learn about Eclipse technologies, share best practices, and more. EclipseCon is our biggest event of the year and connects the Eclipse ecosystem and the industry's leading minds to explore common challenges and innovate together on open-source runtimes, tools, and frameworks for cloud and edge applications, IoT, artificial intelligence, connected vehicles and transportation, digital ledger technologies, and much more. 
PIACERE took place at this event through Prodevelop, Polimi and Tecnalia. During the community day PIACERE provided a talk in the Eclipse CloudDev Tools and Open VSX track about the PIACERE IDE and its usage to design and deploy secure IaC code using the different PIACERE components. During the tueday PIACERE praticipated in the colocated conference eSAAM 2023 in Cloud-to-Edge Continuum. On that talk PIACERE presented the design phase and the multicloud support. Finally,  we participated hoding a booth to present the PIACERE approach and potential applications to the conference participants.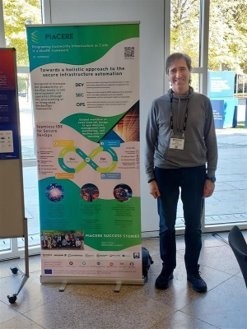 Red Hat organizes a set of Red Hat Summit Connect events, bringing interactive labs, demos, and networking opportunities to more than 16 selected cities. These events offer a valuable opportunity to explore the future of hybrid cloud, open source, and IT. Red Hat Summit Connect Madrid (https://www.redhat.com/en/summit/connect/emea/madrid-2023) took place on October 17, at the prestigious and unique venue – the Atletico de Madrid stadium. The event attracted over 700 participants, including major Spanish banks, insurance companies and  telecommunication giants. XLAB proudly sponsored the event, showcasing our expertise in automation. 
PIACERE took place at this event through XLAB, holding a booth to discuss the potential and challenges of DevSecOps with the visitors. Due to the nature of this event, the pitch was focused on PIACERE's capabilities in the context of Ansible and special attention was given to DOML, design time security and to IaC execution. During the event, our team delivered two micro presentations on Ansible upgrades and Custom policies, and introduced Steampunk Spotter, the enterprise version of the open-source IaC Scan Runner, that XLAb is developing together with the PIACERE partners. Our booth received a great response, attracting numerous visitors and expanding our network. It was truly fulfilling to witness our research turn into practical solutions that assist businesses in overcoming real challenges. The more engaging visitors were also very happy to be awarded with the PIACERE giveaways.